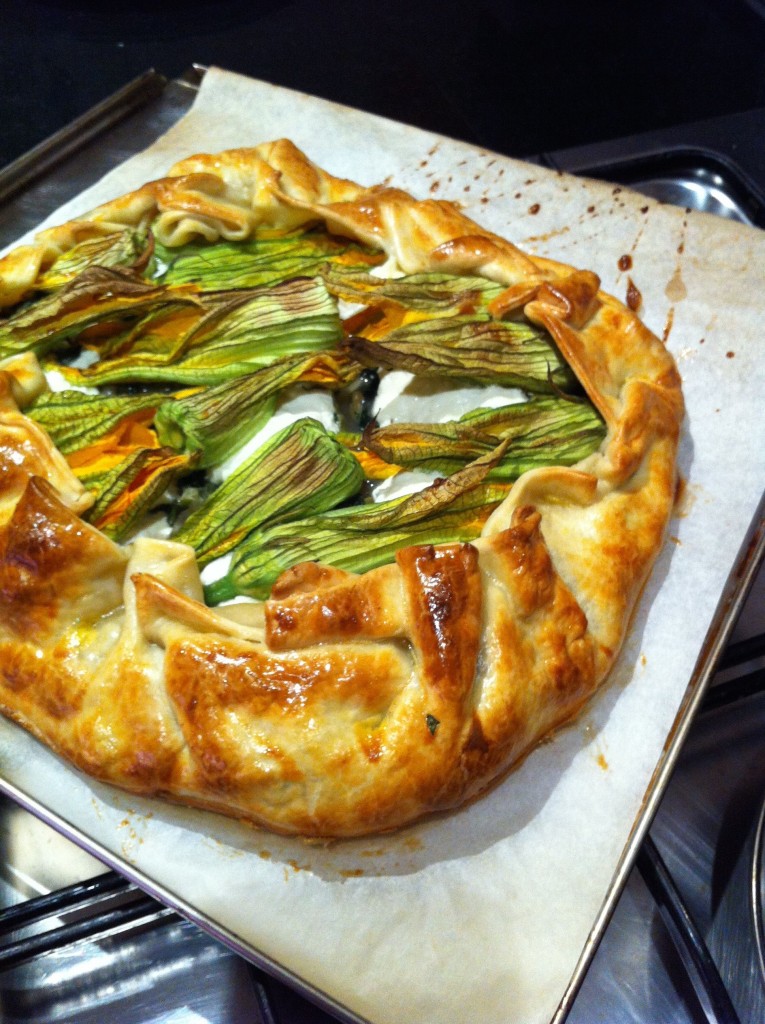 This is a recipe from Yotam Ottolenghi – (he calls it Corsican Pie with courgette flowers)
I made this one using zucchini flowers, swiss chard and some kale from the garden.
Ingredients
•1/2 small red onion, thinly sliced (85g)
•3 celery stalks with leaves, thinly sliced (220g)
•8 large Swiss chard leaves, white stalks discarded, roughly chopped (175g)
•2 garlic cloves, thinly sliced
•2 tbsp torn mint leaves
•2 tbsp chopped parsley
•2 tps chopped sage
•2 tbsp olive oil, plus extra for brushing
•75g feta, crumbled
•50g pecorino, finely grated
•15g pine nuts, lightly toasted
•grated zest of 1 lemon
•350g all-butter puff pastry plain flour, for dusting
•100g ricotta
•4-6 courgette flowers, cut in half lengthways if large, or 6 long, shaved strips of raw courgette (optional)
•1 egg, lightly beaten
•salt and black pepper
1. Place a large sauté pan on medium–high heat and sauté the onion, celery, chard, garlic, mint, parsley and sage in the olive oil. Cook, stirring continuously, for 15 minutes or until the greens have wilted and the celery has softened completely. Remove from the heat and stir through the feta, pecorino, pine nuts, lemon zest, ¼ teaspoon of salt and a hearty grind of black pepper. Leave aside to cool.
2. Preheat the oven to 220ºC/200ºC Fan/Gas Mark 7.
3. Roll out the pastry on a floured work surface until 3mm thick, then cut it into a circle, approximately 30cm in diameter. Place on an oven tray lined with baking parchment. Spread the filling out on the pastry leaving a 3cm border all the way around. Dot the filling with large chunks of brocciu or ricotta and top with courgette flowers or courgette strips, if using. Bring the pastry up around the sides of the filling and pinch the edges together firmly to form a secure, decorative lip over the edge of the tart. Alternatively, press with the end of a fork. Brush the pastry with egg and refrigerate for 10 minutes.
4. Bake the tart for 30 minutes, until the pastry is golden and cooked on the base. Remove from the oven and brush with a little olive oil. Serve warm or at room temperature.