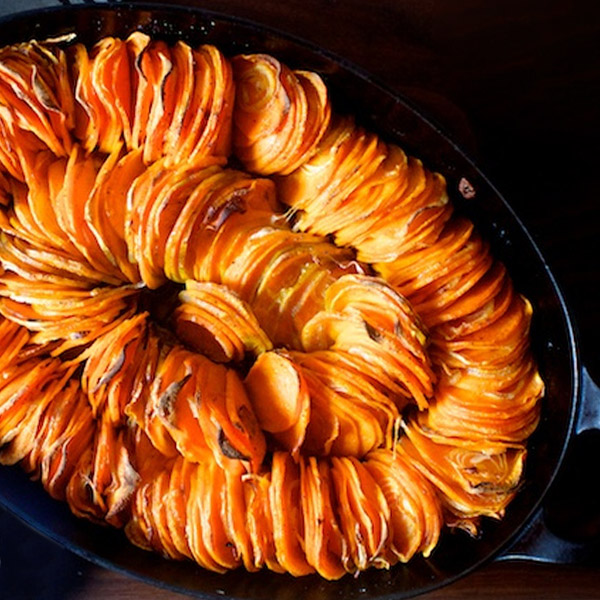 One of my favourite recipes is an Ottolenghi one from his original cookbook. When I lived in London I used to go to his restaurant whenever I could, and fell in love with the vibrant vegetable dishes on display in the restaurant window. I've cooked this recipe with milk or stock, instead of cream, to lighten it up, and think both variations work well. When the sage plant in the garden is looking healthy and plentiful, I'll pick the leaves I need for this recipe. I sometimes pick society garlic and swap this for traditional garlic, making it very much a MBCG recipe.
Sweet potato gratin
Serves 6 as a side dish
(adapted from p68, Ottolenghi)
1.5 kg sweet potatoes, cleaned but not peeled
5 tbs chopped sage (plus 1 tbs to serve)
6 garlic cloves, crushed (or, about 10 stems of society garlic, chopped)
2 tsp coarse salt, 1/2 tsp black pepper
250ml pouring cream or 200ml full fat milk or 150ml veggie/chicken stock (reduce salt to 1 tsp if you use stock)
Preheat oven to 180 degrees
On a mandolin, slice your sweet potatoes into 3-4mm pieces. Or slice with a sharp knife, being careful to have slices about the same thickness.
Mix the potato slices with the other dry ingredients in a bowl, then arrange them standing up in rows, in a deep, medium sized oven proof dish. Add any garlic/sage to the dish that has remained in the bowl. .
Cover the dish in foil and bake for 45 minutes – this is important, the potato takes a while to cook, and this steaming stage helps. Remove the foil and pour your liquid into the dish, then return to the oven for 25 minutes. Check that the potato is totally soft before serving . Add the remaining chopped sage then serve.