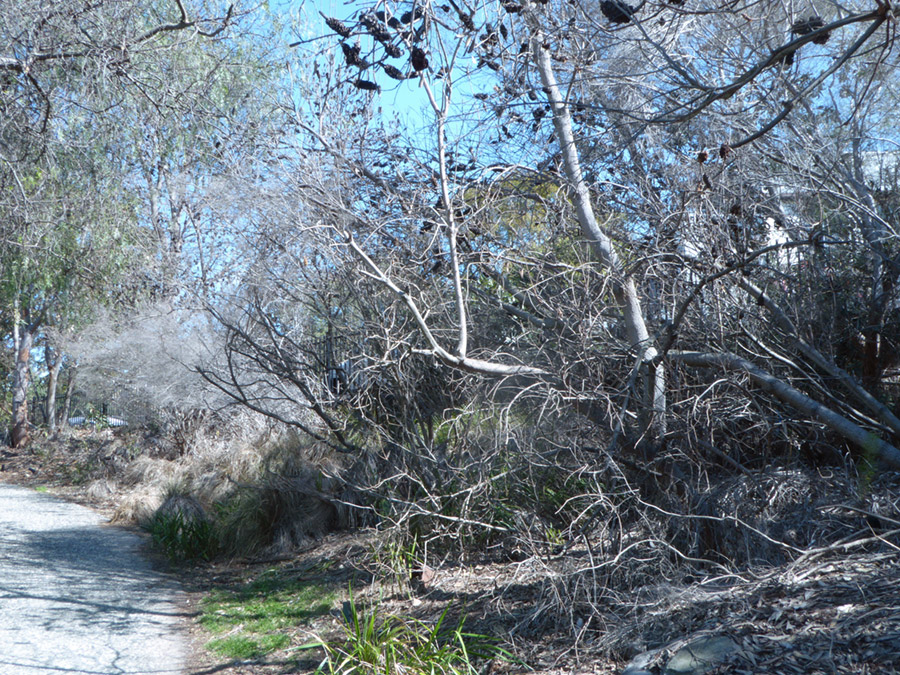 Mort Bay Community Garden is situated in  a pocket of native garden land featuring a stunningly beautiful array of gum trees, wattles, tea-trees and banksias between Short Street and McKell Street. Our members support the local bush-care group in their efforts to remove invading weeds and to plant native grasses and shrubs. Our common goal is to create a habitat for native birds, bees and other pollinators, possums, lizards and other native fauna.
This is a win win situation for everyone. Native flora and fauna can thrive. The neighbourhood is lush and green, healthy and relaxing for us humans to live in. Possums can feed on their natural food and are less likely to invade our private gardens. The micro-climate is balanced and less hot in the Summer. Our community garden also benefits greatly with plenty of pollinators and predators taking care of plant pests in a very natural way.
Trouble in Paradise
In the last years the area at the Bay Street side of the native garden has continuously lost well established trees. It started with all the high gum trees and some banksias dying two years ago. Last year council trimmed the banksias to provide view corridors after residents complained about the height of the trees.
Sadly enough more trees died in the following months.

In the Winter months of 2018 the extinction of plants has reached an extreme extent. Most of the banksias in a focal area along Bay Street, most of the shrubs and even the ground covers and herbs shriveled away and died. The pepper tree along the path to the park is affected too. What is left is a plot of dried out and dead land at the fringe of Mort Bay Park.
The cause of this should worry everyone living close by, walking their dogs there or see kids play there. The devastation is an eyesore to everyone entering the park from the Bay Street side. For the volunteers investing endless hours in bush-care this must be disheartening.
It would be great if our council could shed some light on the cause of this sad development so further damage can be mitigated and a healing process can begin.