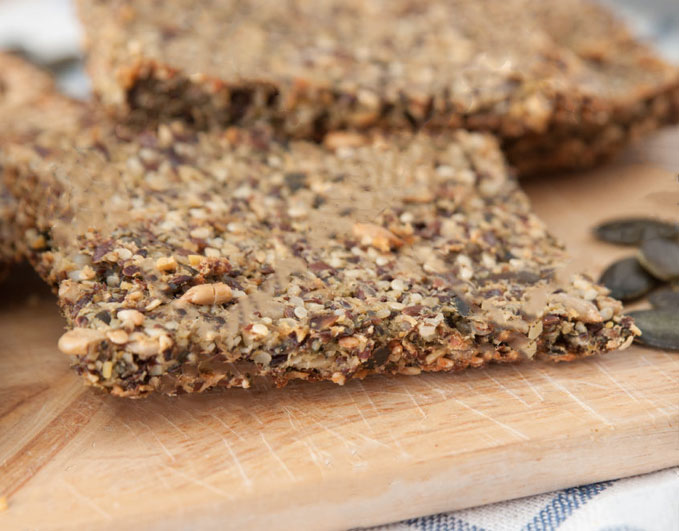 Ingredients:
1-3/4 cups plain flour (or besan/chickpea flour for gluten free)
1 teaspoon baking powder
1/2 cup rolled oats (or rice flakes for gluten free)
1/2 cup sesame seeds (white or black or mixed)
1/2 cup flax seeds
1/2 cup pumpkin seeds
1/2 cup sunflower seeds
2 teaspoons salt
1 cup water
1/2 cup sunflower oil or other vegetable oil
Mix dry ingredients in bowl. Add the water and oil and mix dough for 1-1/2 minutes on medium speed (or just stir well by hand which is what I do).
Divide into 6 equal portions. Roll each portion out between two sheets of baking paper to about 3mm thick (the thinner the better).
Remove top baking sheet and bake on a tray at 200 C for about 10 – 15 minutes (until the edges turn light brown).
Cut or break up into desired shapes directly from the oven or allow to cool on rack and then break up.
Store in airtight container.
If crispbread is not crisp enough or if it loses its crispness just place on a tray in a hot oven for a few minutes.